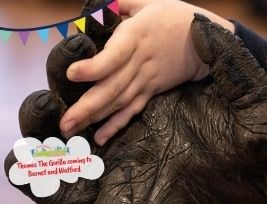 Thomas the Gorilla coming to camp!
We're excited that Thomas the Gorilla from TeachRex will be visiting the children at Barnet and Watford camps this summer.
Thomas will meet the children to give them an insight into his world and the challenges he faces. This immersive experience will bring an added dimension to camp and give children a very special opportunity this summer.
Barnet Camp, Queen Elizabeth's School for Boys: Tuesday 27th July
Watford Camp, Watford Grammar School for Boys: Wednesday 28th July

Workshops
Each day there will be 2 workshops offered to children to take part in. Workshop 1 will be for 4 - 6 year olds and Workshop 2 for 7+ year olds.
In Workshop 1 children will meet Thomas face to face and learn about his story. During this session, children will create an emotional attachment with Thomas and his home, and explore the positive and negative impacts our actions have on our world. This will also be a great opportunity to explore a range of differentiated vocabulary that will enrich children's learning.
In Workshop 2 children will become explorers in the rainforest and consider and discover a range of vocabulary and sentence structures whilst overcoming dangerous threats on their journey. This session focuses on expanding vocabulary and encouraging children to verbally discuss ideas that transfer into writing, using the green screen to ignite their imaginations.
Timetable

9.30am – 10.30am: Workshop 1 – for up 80 children
10.45am – 12.40pm: Workshop 2 – for up to 32 children. 20 min intro to Thomas and then movie making session with green screen and tablets
1.25pm - 2.25pm: Workshop 1 - repeat with different children
2.25pm – 4.30pm: Workshop 2 - repeat with break in the middle at around 3.15pm – 3.30pm
Find out more about the Gorilla Workshops>
We're looking forward to sharing this unique experience with children at Barnet and Watford camps this summer!